Information You Need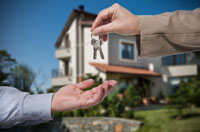 At Robinson Realty & Management, we treat your home as our own. We offer a wide range of property management services to fit your needs as a landlord or home owner. We tailor our services to ensure that you have the highest level of service for your home.
Resources
Testimonials
"I've had poor experiences with property managers in the past, so when I was notified that a new company was going to be managing the unit I lived in I was concerned. From the very first piece of correspondence from Robinson notifying me of the change, they've been very easily reachable and quick to respond to my questions/concerns/maintenance issues.
Cheri is awesome! She responds to emails same-day and was very helpful throughout the transition and on my move-out. Cheri and Janice both gave me their cell phone numbers to call when needed.
I was paying my rent every month online with a credit card (GET THE AIR MILES!) which was really convenient.
I received my full security deposit back without any trouble and within 3 weeks!
Very positive experience with Robinson and the team, Cheri and Janice."
- Jay C.
Owner FAQs
Owners Portal
Owners can access their monthly accounting statement through the online owner's portal at anytime. Statement will include rents received, deducted management fees and any other expenses.
Owners can contact their account manager for copies of any work orders or invoices.
RPM will post updated statements by the 15th of each month.
For access see home page of website