About Us
Our Principals - Michael & Saghi Robinson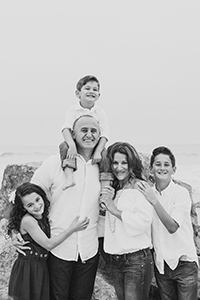 Experience / Trust / Knowledge
EXPERIENCE
We have sat on local property management boards, past president of NARPM (Property Management organization), national speaker on various property management topics, and a licensed instructor for property management by the State of Nevada – Real Estate division. We have the experience necessary to handle whatever your property or resident has to offer.
TRUST
RRM has and still currently represents publicly traded real estate hedge funds (REIT's). When managing properties for publicly traded companies, your reputation and accountability is held to the highest standards. The screening process to obtain security clearance to represent these companies is second to none. This includes screening both our local board and our governing body to confirm we have a clean record. Most important, the accurate accounting of all funds and proper documentation to protect both the landlords and their residents.
The Robinson family has a solid reputation in Las Vegas for ethical business practices and the ability and knowledge to ride through both up and down markets with the ultimate goal of customer satisfaction and smart business decisions. These are critical factors today, considering today's ever changing real estate market in Southern Nevada. Some people think and say that the most important service a Broker provides clients is knowledge of the marketplace. The truth is that the most important service a Broker provides to a client is an accurate accounting of the money being handled by the Broker. This is the #1 complaint that Nevada Real Estate Division deals with. Mishandling of landlords and residents monies.
KNOWLEDGE
While being lifelong resident of Nevada, both Michael & Saghi have specialized in multiple facets of the real estate industry for over 17 years now. Including "flipping" over 300 homes, running a real estate brokerage with 1000's of transactions under their belts. Plus, managing roughly 4000+ homes during this period! RRM and their associates have the extensive knowledge to guide our clients through the ever-changing world of residential property management.
Click on the link below to listen to Michael Robinson speaking on NPR Radio about the Las Vegas Property Management market!
http://www.knpr.org/son/archive/detail2.cfm?SegmentID=5128
Direct # (702) 815-0099
michael@rarealty.net